Thanks Again For Support TPC, We Value Your Feed Back.
As a valued customer – Your feed-back is very important to our business, please let us know how we can improve your experience.

* CALL 1300 552234 OR REPLY EMAIL TO BOOK ANY SERVICE
The Importance Of Termite Inspections
Home owners loving the growth in the Real Estate market as Termites destroy the profits.

Finding a Termite entry point is never an easy job, however on this occasion the subfloor is a great place to start. During a routine inspection live termites where located in the subfloor, the issues here relates to the home having no termite protection.

The house we hope was chemically treated during construction, however the chemical is obviously no longer in place, leaving the home open for an attack.

Termites can be seen travelling up the wall in the subfloor (see photo above) although not many home owners find them quick enough even if they keep a close look out for these termite leads, as termites damage homes fast. We also appreciate that not all home owners want to crawl through the dark, at times wet subfloor looking for termites, or crawl through their roof void either, that is why protection is essential, along with getting a Termite inspection.

Did you know that termites will also travel inside the brick work and may not even be seen till the damage appears inside.
Termites Love Humid Conditions And Now The Added Rain – Look Out !
Even the smallest of insects can cause the most damage.
As we have witnessed high temperatures, humid conditions and now the added rain / Moisture termites have been going on a massive attack.
Did you know ?
Termites attack 1 in 3 homes
Termites are cold blooded, they not only survive in humid conditions, they thrive.
The past three months have been the worst we have seen in 18 years in this industry.
Home owners really need to protect their homes now, the threat is real, we are seeing it every day.
Call us for an inspection : 1300552234 or email reply atadmin@thepestcompany.com.au
Damage That Will Brings Tears To Your Eyes …………. See The Video Link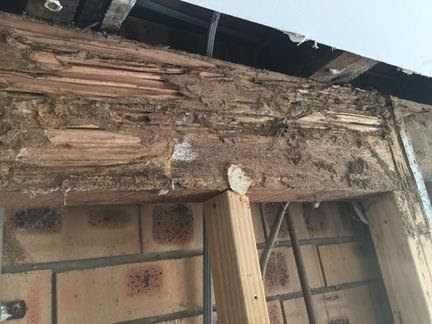 We have left this again this month – Massive damage… yet again, no surprise to us, but many home owners may not be aware of the damage termites can do in a very short time, see our link below
https://www.facebook.com/ThePestCompany/videos/1716345925094496/
Our New Recruit, Ken
Hilarious day on the tools with new recruit Ken and the boys. Not only a genuine and funny guy, Ken has a heallthy attitude towards the Pest Industry with 13 years as a Licensed Temite and Pest Management technician.
Taken from the words of a customer, "Ken is a breath of fresh air."